Barely a week after the MVA incident, I received the following letter from my bank. My initial reaction to this was somehow I've been scammed. I haven't lived in North Carolina in a long time. Why would I owe the state anything? Leave it to the government to invade your privacy, while leaving you poorer, all the while making you feel like a criminal.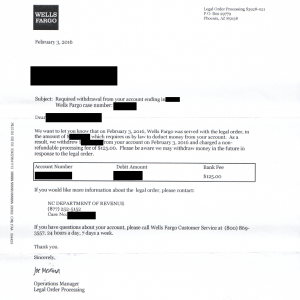 When I called the NCDOR, I was told the state filed a tax return on my behalf for year 2010. In five years, I've never received anything. Once I provided my address, I was sent the following letter along with other bogus claims of taxes owed and fees.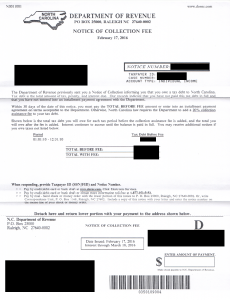 The NCDOR has since acknowledged that I don't owe taxes from 2010 nor the 200% interest and fees; however, I'm still waiting on the booty to be returned.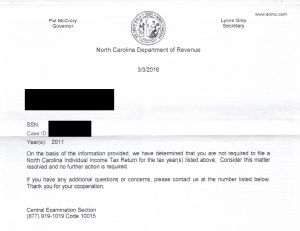 I was going to send a letter to the entire state legislature about this but decided against it since I was not given a hard time about refunding my assets. I will post it here, however.
Dear Legislator,

I was notified by my bank that my account was garnished by the NCDOR. Taxes along with five years of interest and fees were taken for a year I was not working in North Carolina. Never in the past five years have I received a letter, an email, a text, or a phone call. There has been no serious attempt to contact me at all. Even though my address has been unstable due to a job loss, my phone number and email have not changed in a decade. At any time in the past five years, my contact information could have been found by contacting my prior employer, my current employer, the NC Employment Security Commission, the city of Raleigh, Wake County, prior tax returns, or five seconds of searching on Google.

I rarely complain about my taxes. I chose to do nothing when the court date for the appeal on my property taxes was sent to the wrong address, thereby denying me the appeals process. I did not complain when property taxes were recently raised.

This, however, is unacceptable. It was only a few days ago that Maryland suspended my registration and then came looking for its penalty fees. Sloppy and lost paperwork is the business strategy of too-big-to-fail banks. States cannot resort to the same underhanded means of covering budget shortfalls.
Category: States Behaving Badly Comment »