VCF set a time. They called the day before, but it turned out they wouldn't go to my address. After hanging up, I did some research and found out that there was another store close by. I had to make numerous calls to two different stores. Every VCF seems to have a different system for handling calls. Store 59 has a particularly obnoxious call waiting sound. It's a loud beep every few seconds. I guess they really don't want your call.
Eventually, I thought that they were going to call back to set a new time, but after calling a couple of times, I thought maybe they were avoiding me instead. So that evening, I sent a nasty email through their website. This may have been a little premature.
Hello, I waited a week and a half to have a service person sent out to fix my new sofa. Then I was told store 59 doesn't go to [removed]. After several more phone calls, I found out that store 74 does service [removed]. I've called twice and was supposed to receive a return call.

Please take a look at the wonderful quality of this Value City Furniture product! I was not expecting luxury for under $1000, but is it too much to ask that it at least be functional? These photos go up on my blog next week.

In the mean time, I spent a lot of money on this nearly functional sofa bed, and I plan to use it. It's really wobbly though; I hope I don't get hurt. I don't suppose you know what jury awards for product liability torts go for these days? It's probably a little more than the three dollars in gas it will take to send the service tech out here. Anyhow, give me a call.
I provided links to the following images.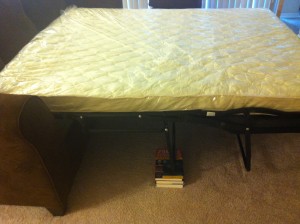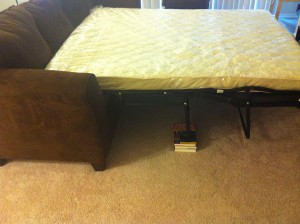 I called again the next morning and they finally agreed to send a service technician. There was also some whining about how they weren't really supposed to do this since I picked the sofa up myself rather than paying for the delivery fee. Later in the day, someone called about the email I had sent. I told him store 74 had agreed to send someone out; he sounded relieved. Now we'll find out if they can actually fix the problem.
Category: Caveat Emptor, Shoddy Merchandise Comment »